WARWICK INTERNATIONAL MODEL BOAT SHOW REPORT
15 intrepid souls set off at 7am for a day out at this show and how glad we are that we went! Forget Blackpool, this is the one to go to by a mile. We arrived there just after a minibus trip from Taunton which shows the 'pulling power of this show. The exhibition centre is quite large, has a small restaurant and was packed to the rafters with models and trade stands and what's more it has excellent heating too, sometimes a tad too warm if anything in places. The show was extremely well organised, well lit and perhaps exactly what one would expect from a company such as Meridienne. (www.meridienneexhibitions.co.uk) Access is easy and there is plenty of space between exhibitors although it was very busy and sometimes it was difficult to get to talk to the traders. Models were mostly of an extremely high standard, especially the lifeboats and naval craft plus there were many different models not seen often and a few 'off the wall' ideas too, including a steam kettle which shot water from it's spot over the kiddywinks.......bless 'em. There were plenty for the large scale enthusiast too with some models measuring in excess of 10 feet in length! This brings me to the large indoor pool which was very busy with well organised displays and free sailing throughout the day, there was even a 'children's hour' run by members of the Anglian Model Boat Club who had a similar rig to the one we used to use with our portable pool. It was also a refreshing change to see club displays from the Midlands and south country , even one from Brest in France, instead of the usual northern displays.
Hopefully these photos will show you the quality of this show and perhaps we can do it all again next year. I do know that some of the members who went this year would like to make a return trip in 2010.
Our 'executive' transport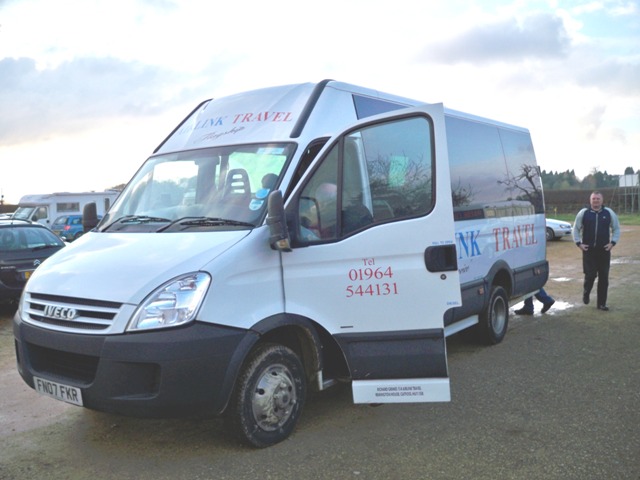 Click HERE for the photos